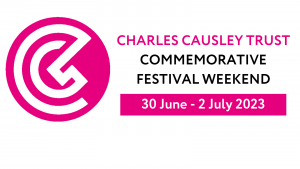 Dreams, and dreaming, have been a source of inspiration and wonder, since ancient times. We spend a large portion of our lives asleep. What is the free play of our 'night minds' like? How can we can safely and boldly channel the creativity of dreaming, in our daily practice of writing? Together, we'll explore ways of 'dreaming awake', from medieval dream-visions, to playful surrealism. I'll gently introduce a few texts and techniques. By the end of this workshop, we'll have devised 'dream approaches' to renew your writing. We'll have created individual dreamscapes, and gained the confidence to venture into interwoven collaborations. 
Please bring a notebook and pens with you. 
Saturday 1st July
15:00-17:00
Merchants House (upstairs), Launceston
Ticket: £20

*PLEASE NOTE - MERCHANT'S HOUSE IS STILL UNDERGOING SOME RENOVATION. TO GET TO THE SPACE USED FOR THIS WORKSHOP, YOU WILL NEED TO ASCEND SPIRAL STAIRCASES.

Any donations that you can make to the Causley Trust would be greatly appreciated. Thank you for your support.