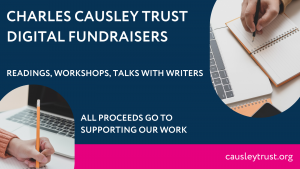 This event will be divided into two short workshops, both an hour long. 
Part 1 with Penelope Shuttle: Writing a Letter to the God of the Sea 
In this workshop hour we will read and discuss three poems by Charles Causley and then write from prompts drawn from these compelling poems. I invite participants to extend their imaginative practice via the portal of Charles Causley's profound and accessible writing.  This will be an enjoyable and affirming workshop, focussing on the pleasure and excitement of expression through poetry.   
Part 2 with David Devanny: Topographies of Poetry: From the Land to the Sea 
Charles Causley's poetry is both rooted and unrooting, navigating layers of meaning in both real, spatial and mythic geographies, in land and over the seas. This workshop hour uses Charles Causley's words and different types of topographic maps to inspire new poetic mythologies. 
Wednesday 7th June 
7-9pm 
Ticket: £20 

This event is a fundraiser for the Causley Trust. We greatly appreciate any support you can give.