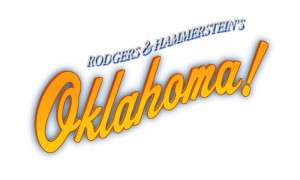 Rodgers & Hammerstein's first collaboration remains, in many ways, their most innovative, having set the standards and established the rules of musical theatre still being followed today. Set in a Western Indian territory just after the turn of the century, the high-spirited rivalry between the local farmers and cowboys provides the colorful background against which Curly, a handsome cowboy, and Laurey, a winsome farm girl, play out their love story. Although the road to true love never runs smooth, with these two headstrong romantics holding the reins, love's journey is as bumpy as a surrey ride down a country road. That they will succeed in making a new life together we have no doubt, and that this new life will begin in a brand-new state provides the ultimate climax to the triumphant OKLAHOMA!
Creative Grounds Fine Arts Academy Inc., formerly Center Grove Fine Arts Academy, Inc., proudly presents Rogers and Hammerstein's Oklahoma! 
"Calling Rodgers and Hammerstein's OKLAHOMA! a classic American musical is an understatement. Like Grant Wood's 'American Gothic' and Mark Twain's novels, or George Gershwin's 'Rhapsody in Blue' and Chuck Berry's rock 'n' roll, OKLAHOMA! is firmly embedded in the canon of America's greatest cultural creations."
— Wichita Eagle, January 01, 2002
Critics have given Oklahoma! rave reviews as a classic production, which in part is why CGFAA chose this amazing show.  Come see for yourself this amazing cast of over 55 students bring this story to life.
Productions will be held at Southland Community Church, 5800 W. Smith Valley Road, Greenwood, IN 46412. 
October 31 @ 6:30 – Sensory Friendly Production
November 1 @ 7:00
November 2 @ 3:00 & 7:00
November 3 @ 3:00 
Tickets
Preferred Seating: Adult $10.00 / Student $7.00
Regular Seating: Adult $8.00 / Student $5.00