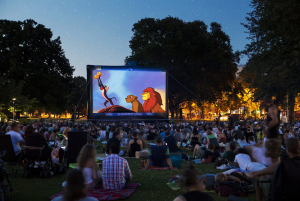 Hakuna Matata! 
An amazing outdoor cinema experience at Woodstock Park, the home of Sittingbourne Football Club, with a showing of the Disney classic, The Lion King.
Disney's The Lion King follows the adventures of the young lion Simba, the heir of his father, Mufasa. Simba's wicked uncle, Scar, plots to usurp Mufasa's throne by luring father and son into a stampede of wildebeests. But Simba escapes, and only Mufasa is killed. Simba returns as an adult to take back his homeland from Scar with the help of his friends Timon and Pumbaa. 
Plus: Hot food, Bar, Popcorn, Music and more before the film starts.
Wednesday 6th June 2018
Gates open
 7pm, film starts 9pm or when the sun sets.
Tickets
 £12 Standard / £8 Under 16
Bring a blanket or chair and watch The Lion King on a giant cinema screen under the stars!
** For full event info go to: 
www.slipnslideevents.co.uk/event/the-lion-king-sittingbourne-event-info​