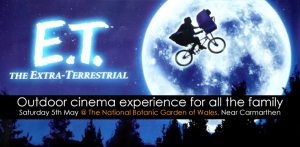 "E.T. phone home!" Bring a blanket or chair and watch this epic Spielberg classic on a HUGE outdoor cinema screen, under the stars, in the stunning grounds of The National Botanic Garden of Wales.
After a gentle alien becomes stranded on Earth, E.T. is discovered and befriended by a young boy named Elliott. Bringing the extraterrestrial into his home, Elliott introduces the alien to his brother and little sister, Gertie, and the children decide to keep its existence a secret. However, E.T. falls ill, resulting in government intervention and a dire situation for both Elliott and the alien.
Spielberg's classic is still one of the best!
Plus: Music / BBQ / Bar / Popcorn + more.

Saturday 5th May 2018 @ The National Botanic Garden of Wales
Gates open at 7pm, film starts at 8.30pm

Tickets: £12 Standard / £8 Under 16

​Bring a blanket or chair and sit under the stars!**
For full event info go to: www.slipnslideevents.co.uk/event/cinema-stars-et​