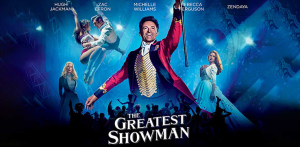 This is the greatest show! 
An amazing outdoor cinema experience in the stunning grounds of The National Botanic Garden of Wales, with a showing of the epic The Greatest Showman.
Inspired by the imagination of P. T. Barnum, The Greatest Showman is an original musical that celebrates the birth of show business & tells of a visionary who rose from nothing to create a spectacle that became a worldwide sensation.
A visually stunning movie with a heart warming storyline and fantastic songs.
Plus: BBQ, Bar, Popcorn, Music and more before the film starts.
Saturday 28th & Sunday 29th July 2018
Event starts 7pm, film starts around 9pm or when the sun sets.

Bring a blanket or chair and watch The Greatest Showman on a giant cinema screen under the stars!
** For full event info go to: 
www.slipnslideevents.co.uk/event/the-greatest-showman-nbgw-info​
Tickets
 SOLD OUT
If you missed out, check out our August event with Harry Potter! 
www.thelittleboxoffice.com/cinemaunderthestars/event/view/85887