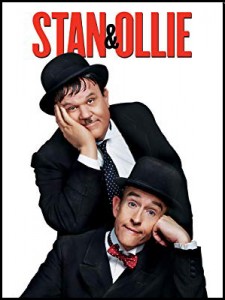 Date:
Friday 21st June 2019
Time:
7.45pm (doors open 7.00pm)
Tickets:
£7.00
Duration:
97mins
Rating:
PG
Genre:
Biography/Comedy/Drama
Director:
Jon S. Baird
Cast includes:
John C. Reilly, Shirley Henderson, Steve Coogan
'Stan & Ollie' tells the story of how Laurel and Hardy, with their golden age long behind them, embark upon a tour of the music halls of Britain and Ireland.
Despite the stresses of the tour, past resentments coming back to light, and Hardy's failing health, the show must go on: in the end, their love of performing - and of each other - ensures that they secure their place in the hearts of the public.
Steve Coogan and John C. Reilly are 'Stan & Ollie' in the true story of Hollywood's greatest comedy double act.
BAFTA-nominated for Best British Film of the Year and Best Leading Actor (Steve Coogan)
"Stan & Ollie is a gently elegiac homage to Laurel and Hardy. With beautiful performances by Steve Coogan (as Stan Laurel) and John C Reilly (as Oliver Hardy), it is a film about friendship and loyalty as much as a comedy." -
The Independent
.
"These are brilliant impersonations, the kind that can only be achieved by exceptionally intelligent actors; the superb technique of both is matched by their obvious love for the originals." -
The Guardian