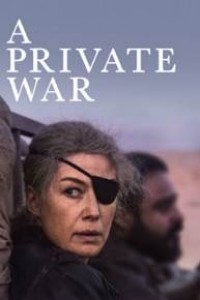 Date:
Friday 20th September 2019
Time
: 7.45pm (doors open 7.00pm)
Tickets:
£7.00
Duration:
110 mins
Rating:
15
Genre:
Biography/Drama/Wara
Director
: Matthew Heinemany
Cast includes:
Jamie Dornan, Rosamund Pike
Marie Colvin (Rosamund Pike) is one of the most celebrated war correspondents of our time. After being hit by a grenade in Sri Lanka, she wore a distinctive eye patch and was still as comfortable sipping martinis with London's elite as she was confronting dictators. Colvin sacrificed loving relationships, and over time, her personal life started to unravel as the trauma she'd witnessed took its toll.
Yet, her mission to show the true cost of war led her – along with renowned war photographer Paul Conroy (Jamie Dornan) – to embark on the most dangerous assignment of their lives in the besieged Syrian city of Homs.
Based on the extraordinary life of Marie Colvin, A Private War is brought to the screen by Academy Award nominee and critically acclaimed documentary filmmaker Matthew Heineman in his pulse-pounding narrative feature debut.
"The success of the film undeniably rests in the hands of Pike, who takes on the scrupulous task of embodying the famed civil war journalist, from her appearance, to her mannerisms, to her voice. Unsurprisingly, the lead actress knocks it out of the park, becoming Colvin in a powerfully haunting performance."
- The Upcoming
"Blistering biographical portrait exploring a life spent amid the carnage of the world's troubled hot spots - and the psychological impact of witnessing so much suffering."
- Radio Times