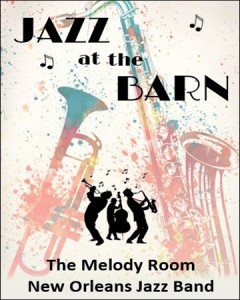 Friday 22nd November 2019Time:
7.30pm (doors open 6:45pm)
Tickets:
£16.00
Duration:
2 hours 30 mins (including interval)
Band:
The Melody Room Jazz Band
Come and listen/dance to the wonderful sound of 'trad jazz' in true New Orleans style!
Our live 6-piece band is the 'Melody Room Jazz Band', consisting of trumpet, trombone, clarinet, banjo, bass and drums, with plenty of vocals – real traditional stuff.   Remember Kenny Ball, Chris Barber, Terry Lightfoot, Humphrey Littleton and so on?  Well, that's the style these guys specialise in – real Dixieland sounds!
So come along and enjoy the authentic sounds of New Orleans Jazz at the Cross Barn.  You can either sit and just soak up the atmosphere, or lapse into a state of nostalgia or - if you can't resist it - you could get up and dance all evening!
After a successful first in 2018, we anticipate tickets will go fast, especially for this extremely popular type of jazz. And as we will be using a small part of the floor for dancing, numbers will be limited.