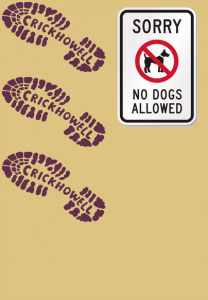 Date: Tuesday 10th MarchMeeting Point: Pont CadwganGrid Ref: SO 267251
Time: 10am to 3pm
Distance: 7 miles
Ascent: 1400ft
Leader: Dr Giles P Croft  Price: £10.00
Sponsored by: gilespcroft.com
**Please note this walk has the Wellbeing Workshop on Monday evening as its first component. By booking this walk you get access to the workshop as well.
Following overnight reflection, we take our fresh perspective on wellbeing out into the fresh air. Starting in the glorious Grwyne Fawr valley, we'll wend our way through the woods before heading out on to the hills. After a lunch stop and group conversation at the 14th Century Partrishow church, it's time for the day's climb up to the trig point at Crug Mawr. We'll return along the ridge and back down through forestry tracks. Throughout the walk there will be plenty of opportunity for questions, discussion, sharing of insights and a deeper exploration of the principles underpinning our psychology. But mostly, we'll just enjoy being out in nature!
Read our
Terms & Conditions
Directions to Start:
Allow 45 minutes from CRiC. From the front of CRiC take A40 towards Abergavenny and turn immediately left after the Fire Station up Greenhill Way. Then right at mini- roundabout. Follow the road for 3½ miles until, on a right hand bend, you come to a sign for Llanthony along a very narrow lane. Turn left here (effectively straight on!) and continue, following the signs. At first T junction turn right and at "major" intersection (five ways) take first exit (signposted Grwyne Fawr). After about 3 miles look for a turning over a bridge on your right in the woods [easily missed] this takes you into Pont Cadwgan car park on the other side of the river. To obtain directions from another location, click on the map below, then click on Directions and add your starting location.