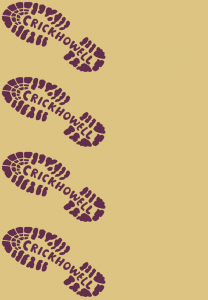 Date: Tuesday 10th March
Meeting Point: Dragon's Back Inn, Pengenffordd
Grid Ref: SO 175296
Times: 9.30am to 4pm
Distance: 11 miles
Ascent: 2500ft
Leader: Peter Childs
Price: £8.50
A fine walk along the North West escarpment with fine views over the Wye valley and the Black Mountains. After a stiff ascent up the Dragon's Back we walk along the top of the escarpment past Rhos Dirion and up Twmpa where we pause to admire the view. We descend Rhiw Wen and pick up undulating paths at the foot of the escarpment (often muddy) and return to Pengenffordd. Parking is at the Inn for which there is a £2 cash payment. Please bring the correct change. To obtain directions from another location, click on the map below, then click on Directions and add your starting location.
Read our
Terms & Conditions
View the route in V
iewRanger
Directions to Start
From the front of CRiC, take A40 towards Brecon. After 1½ miles, turn right onto A479 and continue through Tretower and Cwmdu for 6¾ miles towards Talgarth. The Dragon's Back Inn is nearly at the top of the long hill on the right with car-parks on both sides of the road. Use the car park by the pub. Note there is a charge of £2 for using this car park. Please bring exact change.