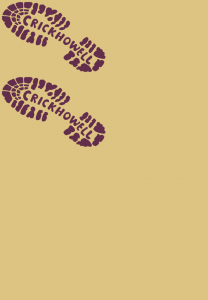 Date: Sunday 15th March
Meeting Point: CRiC
Times: 10.30am to 1pm for lunch
Distance: 4.5 miles
Ascent: 1250 ft
Leader: David Thomas
Price: £6.50 (excluding lunch)


Sponsored by: Vamos at the Courtyard
Table Mountain (Crug Hywel in Welsh) gives Crickhowell its name and its hill fort dominates the town despite its modest height. This delightful hill walk offers stunning views of Crickhowell, the Usk Valley, the Black Mountains and the Brecon Beacons, the ultimate Welcome for Walkers! Note the ascent is quite steep. On the way down walkers are invited to a special Sunday lunch (£9.95 for 1 course, £12.95 for 2 and £14.95 for 3 courses with unlimited tea and coffee) at the newly opened bistro - Vamos in the Courtyard. Please book directly with Vamos on 07488 283800. (Sorry, no dogs in Vamos.)
This walk is featured in the Walkers are Welcome in Crickhowell (WaWiC) publication "Cracking Walks around Crickhowell" available in CRiC and on the CWF Website.
Read our
Terms & Conditions
Directions to Start
CRiC - the Crickhowell Resource and Information Centre - is situated on the A40 in the centre of Crickhowell. The Post Code is NP8 1BN.There is a public Pay and Display car park immediately behind the CRiC building, which is accessed from Greenhill Way, by the Fire Station.To obtain directions from another location,click on the map below, then click on Directions and add your starting location.
At the weekends you can use the School Car Park for no charge. Continue along the A40 to the Shell Petrol Station. Turn left and the school is on your right.