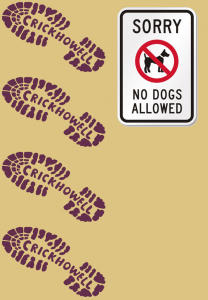 Date: Wednesday 11th March
Meeting Point: Llanthony Priory for bus to start
Grid Ref: SO 288277
Times: 9am to 5pm
Distance: 12 miles
Ascent: 3937ft
Leader: Paul Wyatt
Price: £13.50 (includes £5 bus fare).
This walk crosses three main ridges with spectacular views rewarding the effort. We make the ascent to Crug Hywel iron age hill fort via the well-worn path. Our descent to the ford over the Grwyne Fechan follows before an ascent to Craig Mawr with superb views of the Grwyne Fechan Valley. We then proceed down to Patrishow Chirch for a well-earned lunch stop. Our descent into the Grwyne Fechan valley continues with a gradual ascent along a lane to the Revenge Stone at Coed Mawr. A ridge walk follows to Bal Bach and a descent to Cwm Bwchel valley leads to our stop at Llanthony Priory.
Read our
Terms & Conditions
View route on 
ViewRanger
Directions to Start
Allow 1 hour from CRiC. From the front of CRiC take A40 towards Abergavenny and turn immediately left after the Fire Station up Greenhill Way. Then right at mini- roundabout. Follow the road for 3½ miles until, on a right bend, you come to a sign for Llanthony along a very narrow lane. Turn left here (effectively straight on!) and continue, following the signs. At first T junction turn right and at "major" intersection (five ways) take third exit (signposted Cwmyoy, Llanthony etc). At next T junction turn left and follow road for 5 miles to turning, right, signposted to Llanthony Priory. Park in public car park.To obtain directions from another location, click on the map below, then click on Directions and add your starting location.