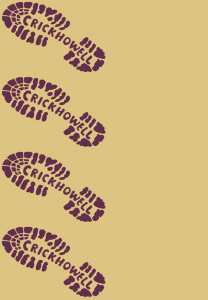 Date: Sunday 10th March
Meeting Point: CRiC
Times: 9am to 5pm
Distance: 16 miles
Ascent: 4100ft
Leader: Sarah and Sandie Restall
Price: £8.50

This walk takes in three of our notable local mountain peaks. The walk starts easily enough along the river to Cwrt y Gollen and then Llangenny, where it starts climbing up to Sugar Loaf. A brief rest at the top before descending to the valley at Forest Coal Pit. Then via the lovely isolated church of Partrishow up to Crug Mawr and down again to the Grwyne Fechan valley. Crossing the river by a footbridge the route takes you up onto Table Mountain and then down to Crickhowell.

Directions to Start
CRiC - the Crickhowell Resource and Information Centre - is situated on the A40 in the centre of Crickhowell. The Post Code is NP8 1BN.There is a public Pay and Display car park immediately behind the CRiC building, which is accessed from Greenhill Way, by the Fire Station. At the weekends you can use the School Car Park for no charge. Continue along the A40 to the Shell Petrol Station. Turn left and the school is on your right.
 
Book
Venue Crickhowell Resource & Information Centre. (CRiC) CWF HQ
Crickhowell Resource & Information Centre. (CRiC) CWF HQ NP8 1BN
Beaufort Street
x
x