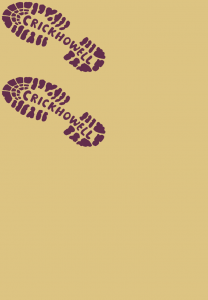 Date: Wednesday 11th March
Meeting Point: Mynydd Llanwenarth Car Park
Grid Ref: SO 268167
Times: 2pm to 5pm
Distance: 4 miles
Ascent: 1000ft
Leader: David Thomas
Price: £6.50
A spiralling approach to the summit of Sugar Loaf – not too steep, except for a short stretch towards the summit. Expect 360 degree views of the Black Mountains, Usk Valley, Herefordshire and beyond, if the weather is kind. Quite steep down to start with, but we'll take it gently.
Read our
Terms & Conditions
View the route on
ViewRanger
Directions to Start
Take the A40 from CRiC towards Abergavenny. As you approach Abergavenny look out for the Lamb and Flag public house on your left. Just after the pub, as you start to descend turn left into a narrow lane. At the first junction turn left. At the next junction (by Sugarloaf Vineyards) turn left and go up the steep hill. Round a sharp bend at the top, then keep right at the next junction. Keep going right to the end of the road, where there is a large tarmac car park.