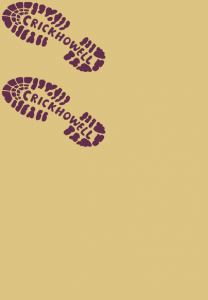 Date: Thursday 12th March
Meeting Point: CRiC
Times: 11am to 3pm
Distance: 6 miles
Ascent: 1300ft
Leader: Roger White
Price: £6.50

A classic walk over Table Mountain. We climb steadily out of Crickhowell and into green meadows, a hillside copse and open moorland to reach the summit of Table Mountain with its Iron Age heritage. We take our lunch on or close to the summit with shelter from the wind on one side or the other and with sweeping views over Crickhowell and the Usk valley. Then we cross the moorland to descend the wooded valley of Cwm Cumbeth and return to CRiC past the Church, the High Street and the Castle.
Directions to Start
Start from CRiC - the Crickhowell Resource and Information Centre - is situated on the A40 in the centre of Crickhowell. The PostCode is NP8 1BN.There is a public Pay and Display car park immediately behind the CRiC building, which is access from Greenfield Way, by the Fire Station.