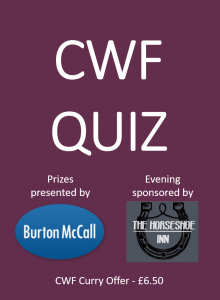 Date: Thursday 14th March
Venue: Horseshoe Inn, Llangattock
Time: 7.30pm
Price: £10.00 per team - pay on the night
Sponsored by: Horseshoe Inn, Llangattock
The CWF Quiz returns with an eclectic mix of questions - some about walking and the outdoors - from quizmaster, Sion James.
Prizes this year have been presented by Burton McCall, suppliers of outdoor gear to Crickhowell Adventure.
First Prize - 4 x Camelbak rucksacks
Second Prize - 4 x Camelbak Insulated cups
Third Prize - 4 x Camelbak Eddy/Chute Bottles
Max of 4 per team, adhoc teams encouraged on the night.
Note: This is a Google-free zone.
Special Offer Curry at £6.50