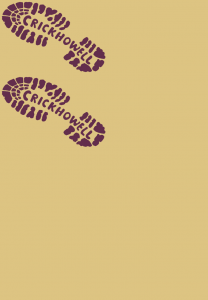 Sunday 25th February
Meeting Point: Clydach Village Hall, Clydach
NP7 0LR. SO 229131
Times: 10.30am to 12.30pm
Distance: 2 miles
Ascent: 500ft
Leader: Penny Hallas
Price: £6.50


Sponsored by: Llangattock Green Valleys
This short but varied walk will take us from Clydach village, up to the impressive viaduct of the former Heads of the Valleys railway line, and skirt the foot of former limestone quarries. Along the route, we track the largely hidden course of one of LGV's micro-hydro schemes and see evidence of past and present uses of water in this valley where nature and industry meet.
The walk will be part of celebrations to mark the 10th year of Llangattock Green Valleys - Wales and UK award winners for their 'vision for a cleaner, greener, more sustainable future'. Micro-projections of the micro-hydro installation process will be shown at key points along the walk (in dry conditions only). LGV volunteers will be present to give information about micro-hydro.
Other art events and exhibitions will be taking place in the spring - watch LGV website for details:
http://www.llangattockgreenvalleys.org
https://twitter.com/LGVcic
https://www.facebook.com/LlangattockGreenValleys/?ref=aymt_homepage_panel
Directions to Start
From CRiC, take the A40 towards Brecon and at the Shell petrol station turn left. Turn left again over the river bridge and follow this road into Gilwern and keep straight on through the village. At the roundabout take the A465 signposted Merthyr Tydfil. BEWARE THERE ARE MAJOR ROAD WORKS ALONG THIS STRETCH OF ROAD SO DETAILS OF DIRECTIONS MAY CHANGE. Essentially, keep straight on for about 2 miles and as you go down a dip turn left for Clydach. Keep on into the village and as you start to rise turn right to the hall.