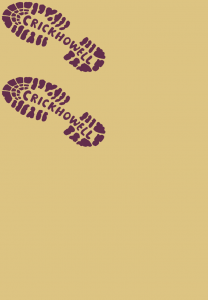 Date: Sunday 15th March
Meeting Point: Queen's Head Walkers Car Park,
Stanton
​Grid Ref: SO 311221Times: 2pm to 5pmDistance: 5 milesAscent: 1200ftLeader: Ferne DaviesPrice: £6.50
Explore the area between the Honddu and the Grwyne Fawr and visit a Wood of Stones (with trees!) and a 2000 year old hill fort with great views and a dash of Strawberry on the way! A little bit of a climb to the hill fort, but otherwise easy walking. We set off along the Honddu to Strawberry Cottage before heading west over the lower reaches of the shoulder of Bryn Arw, then through Coed-y-Cerrig (Wood of Stones), a National Nature Reserve, followed by the climb up to Y Gaer, the hill fort. The return is quite steeply down a lane.
Read our
Terms & Conditions
Directions to start
From the front of CRiC take A40 towards Abergavenny and turn immediately left after the Fire Station up Greenhill Way. Then right at mini-roundabout. Follow the road for 3½ miles until, on a right bend, you come to a sign for Llanthony along a very narrow lane. Turn left here (effectively straight on!) and continue, following the signs. At first T junction turn right and at "major" intersection (five ways) take second exit (signposted Llanthony). At next T junction turn left. The Queen's Head pub is on your right after 300 yards and the car park just after it on the left.
To obtain directions from another location, click on the map below, then click on Directions and add your starting location.