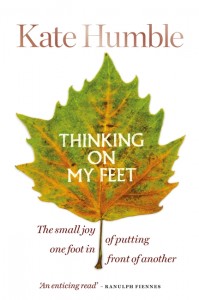 Date: Saturday 9th March
Venue: Clarence Hall
Licensed Bar
Time: 7.30pm to 9.30pm
Price: £20 (incl signed hardcover book). £10 without.
Sponsored by: Book-ish
Join us for an evening with one the UK's best known TV presenters, Kate Humble, as she talks about her new book Thinking on My Feet, celebrating walking and the small joy of putting one foot in front of the other.
Thinking on My Feet tells the story of Kate's walking year – shining a light on the benefits of this simple activity. Kate's inspiring narrative not only records her walks (and runs) throughout a single year, but also charts her feelings and impressions throughout – capturing the perspectives that only a journey on foot allows – and shares the outcomes: a problem solved, a mood lifted, an idea or opportunity born. As she explores the reasons why we walk – whether for creative energy, challenge and pleasure, or therapeutic benefits, Kate's reflections and insights will encourage, motivate and spur you into action.
Farmer, writer, activist, entrepreneur – Kate is a familiar face on our TV screens, presenting a whole host of programmes including, 'Animal Park', 'Springwatch & Autumnwatch', 'Lambing Live', 'Living with Nomads', 'Extreme Wives' and 'Back to the Land'. As well as sharing her love of walking, Kate will talk about her life working with wildlife, the far flung places that this has taken her to and the inspiring people she has met on her travels.