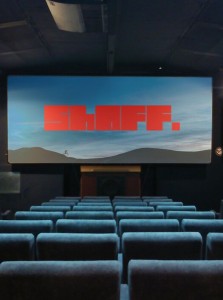 Date: Sunday 10th March
Venue: Sports Pavilion, Crickhowell
Licensed Bar
Time: 7.30pm to 9.00pm
Price: £7.50
Sponsored by: Crickhowell Adventure
Some of the best films from the 2018 Sheffield Adventure Film Festival, chosen for you by Jane from Crickhowell Adventure.
Delicate Diving Free. Jacques de Vos is an underwater photographer who spends most his time freediving with orcas. This South African became an expert in finding these incredible creatures in the ocean and spending a few seconds swimming with them underwater.

The Foodless Odyssey has been a longtime dream of pro mountain biker Matt Hunter. The idea is to bike-pack through hundreds of kilometres of wilderness on the remote Island of Haida Gwaii, living entirely off the land. The rules were simple, we would carry all the survival tools we needed to bike,fish,hunt and camp…. but absolutely no food. 

My Big White Thighs. Hannah Maia sets herself the simple goal of swimming in open water at least once a month for a year. As she braves the elements throughout the seasons to swim in wild places she also begins to appreciate the quiet heroism of a female life and its body.

The Place of the Gaels. This film catalogues a group of US athletes as they journey through Scotland and discover that the weather is just as fickle, the people just as welcoming and the climbing just as demanding as they'd always heard.

The Frozen Road. This is an honest reflection of Ben Page's solo trip into the Canadian Arctic; of the wonder, terror and frustration he experienced when riding through the unforgiving emptiness of one of the world's 'last great wildernesses'.

Where the Wild Things Play. A rowdy ode to female athletes by Krystle Wright, as they are seen BASE jumping from high desert cliffs, performing tricks on slacklines, climbing granite routes, shredding singletrack, skiing backcountry lines and generally leaving you fellas behind!

There will be a licensed bar.

Directions to Venue
The Sports Club Pavilion is situated on the A40, on the left as you enter Crickhowell from Abergavenny, next door to the cricket ground. Signs outside say "Bowls Club" and "Crickhowell Sports Association". There is limited off road parking.