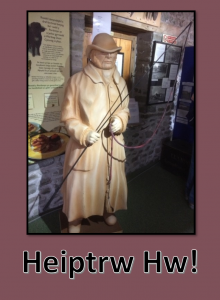 Date: Tuesday 10th March
Venue: Scout Hall, Castle Road, NP8 1AP
Time: 7.30pm
Price: £6.50
Speaker: Mark Davis


Sponsored By: Glanpant & The Star Bunkhouse
The Brecon Beacons National Park has a rich droving heritage, being one of the main routes running from west to east across the country.  Mark will explore the history, culture and practice of droving and the routes that might have been taken through the Brecon Beacons to bring Welsh livestock to the English markets.
Mark Davis is one of a growing band of Brecon Beacons National Park Ambassadors. It was the National Park's Ambassador programme on Welsh culture that first piqued his interest in the Drovers. His enthusiasm for, and interest in the subject has grown ever since. Join Mark to learn more about the Drovers on his walk tomorrow, Walk 47.

The Scout Hut is in Castle Street, Crickhowell. Down the High Street and round to the left.