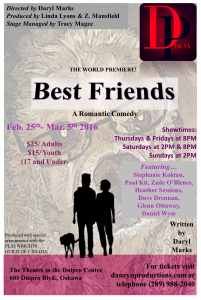 AN HILARIOUS NEW ROMANTIC COMEDY, MAKING ITS WORLD PREMIERE ON DANCYN'S STAGE!
The story of two lost souls whose lives are inexplicably brought together by the loss of their beautiful dogs. Still fighting back the tears three days after the passing of his wonderful dog Dickens, Turner finds himself in a mysterious pub whose only clientele is that of customers who all have one common bond...they're all mourning the loss of their best friend. Turner meets Alice in the pub, and together, (with the guiding hand of Sheppard the bartender) they help each other mend their broken hearts and regain the courage and confidence to face life head on. BEST FRIENDS is a romantic comedy that takes its audience on a beautiful and engaging journey filled with laughter, tears and triumph.
BEST FRIENDS is recommended for ages 14+.
DATES
February 25th to March 5th 2016
SHOWTIMES
Thursdays & Fridays at 8PM
Saturdays at 2PM & 8PM
Sundays at 2PM
TICKETS
Adults $25, Youths (17 and under) $15