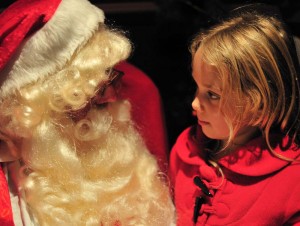 PLEASE REGISTER YOUR INTEREST FOR OUR EARLY 2019 TICKET RELEASE - CLICK HERE
For the 10th successive year, the open air Ice-rink is returning to Royal Tunbridge Wells. It will be open seven days a week from
Friday 15 Nov 2019 – Sunday 6 Jan 2020
 (closed Christmas Day). 
(Please note Father Christmas is only available on selected dates listed below)
So get ready to dig out your ear muffs and gloves, grab someone's hand, have some ice-skating fun and at the same time come and see our wonderful Father Christmas in his cosy, warm log cabin set in the trees & snow! (only visiting on certain dates, check booking calendar to avoid disappointment)
We pride ourselves on having one of the most authentic Father Christmas experiences in Kent which captures those priceless moments between a child and Father Christmas.
Father Christmas will welcome families in his cosy Log Cabin between Saturday 23 November 2019 and Tuesday 24th December 2019.

What's included:
A warm welcome from our elves who magically let Father Christmas know all the children's names

A cosy, dry, warm, beautiful Log Cabin waiting area where you can write a letter to Father Christmas and post in our special post box or hand to him personally
A 10 minute, personal, private visit with Father Christmas
Each child can choose an age appropriate, quality gift to take home
One professionally taken family photograph (1 per group or family) with Special Christmas frame upgrade available on collection
Extra photographs and merchandise are available to buy from our sales cabin

Keyrings and Fridge Magnets are also available along with digital image copies via e-mail


 
Children and families voted last year's Father Christmas experience as one of the best ever in the Southeast, even better and more personilsed experience than Harrods in London some customers said!

We were also compared to the special, personilsed visit to Father Christmas at Lapland UK, that explains just how good an event we stage every year and it reminds us that the visit with Father Christmas is the most important part every Christmas.
 
We strongly advise booking in advance to avoid any disappointment.  However, we do try our best to accommodate families who turn up on the day, but this is not always possible.

All adults are £2.00 each with a full paying child over one year old.
One adult will pay the normal child price of £16.50 when accompanied by children under one and additional adults will be £2.00 each.
Our Log Cabin/s are disability friendly so plenty of access space for wheelchairs 
A small booking fee applies on check-out
 
Confirmed Opening Dates & Times for 2019:

Saturday 23 Nov - 09:00am - 5:30pm 
Sunday 24 Nov - 09:00am - 5:30pm 
Saturday 30 Nov - 09:00am - 5:30pm  
Sunday 1 Dec - 09:00am - 5:30pm 
Saturday 7 Dec - 09:00am - 5:30pm 
Sunday 8 Dec - 09:00am - 5:30pm  
Saturday 14 Dec - 09:00am - 5:30pm  
Sunday 15 Dec - 09:00am - 5:30pm 

Wednesday 18 Dec - TBC
Thursday 19 Dec - TBC

Friday 20 Dec -  09:00am - 5:30pm  
Saturday 21 Dec -  09:00am - 5:30pm 
Sunday 22 Dec -  09:00am - 5:30pm 
Monday 23 Dec -  09:00am - 5:30pm 
Tuesday 24 Dec - 09:00 - 4:00pm
 
Admission Fees for Father Christmas 2019:
Children ages 1-14
 
1 child - £16.50
2 children - £33.00
3 children - £ 49.50
4 children - £ 66.00
5 children - £ 75.00
6 children - £ 90.00
 
Maximum Log Cabin capacity 12 persons. (if you have larger groups please contact us firstly)
If you are not sure how many extra adults you can always add them on when you arrive and pay any small fee applicable to our Front of House Elf

To book ice skating tickets go to: www.tunbridgewellsatchristmas.com 

Any problems with on-line payments or bookings E-mail: fatherchristmas@fatherchristmasinkent.co.uk or call our booking number on: 01892 523693 / 07877 871715 - (09:30am-9:30pm)

IMORTANT NOTICE:
Please be aware you may have to wait up-to 10 minutes at busy times due to late arrivals, traffic issues or adverse weather conditions for your allocated time-slot. It is an outdoor venue and maybe seasonally cold or wet so wrap up warm while walking to our dry, warm, beautiful Log Cabin waiting area.
Father Christmas in Kent E-Ticket Term & Conditions - CLICK HERE

Official website: www.fatherchristmasinkent.co.uk