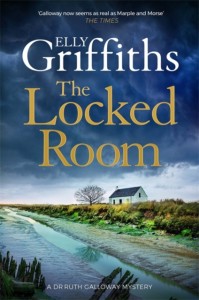 Join us for an evening with crime writer Elly Griffiths. She will talk about The Locked Room, the latest instalment in the the Dr Ruth Galloway Mysteries.  
Ruth is in London clearing out her mother's belongings when she makes a surprising discovery: a photograph of her Norfolk cottage taken before Ruth lived there.  Her mother always hated the cottage, so why does she have a picture of the place? The only clue is written on the back of the photo: Dawn, 1963. Ruth returns to Norfolk determined to solve the mystery, but then Covid rears its ugly head.


Ruth and her daughter are locked down in their cottage, attempting to continue with work and home-schooling.  Happily, the house next door is rented by a nice woman called Zoe, who they become friendly with while standing on their doorsteps clapping for carers. Nelson, meanwhile, is investigating a series of deaths of women that may or may not be suicide. When he links the deaths to an archaeological discovery, he breaks curfew to visit the cottage where he finds Ruth chatting to her neighbour whom he remembers as a carer who was once tried for murdering her employer.
 
Only then her name wasn't Zoe. It was Dawn.
 
Elly Griffiths was born in London. She worked in publishing before becoming a full-time writer. Her bestselling series of Dr Ruth Galloway novels, featuring a forensic archaeologist, are set in Norfolk. The series has won the CWA Dagger in the Library, and has been shortlisted three times for the Theakston's Old Peculier Crime Novel of the Year. Her Brighton-based mystery series is set in the 1950s and 1960s. 
Wednesday 23rd of February 2022 - 7:00pm (doors open at 6:30)
Tickets 
£7.00 standard ticket
£20.00 includes a copy of
The Locked Room