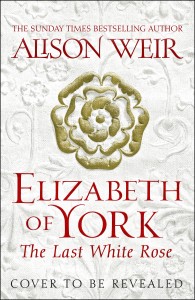 Wednesday 25th May 
7:00pm (doors open at 6:30)

Tickets

£7.00 standard ticket
£20.00 includes a copy of Elizabeth of York

Join us at the bookshop for an evening with Alison Weir to celebrate the publiction of Elizabeth of York.
Alison Weir, Sunday Times-bestselling author of the Six Tudor Queens series, returns with a captiviating new trio of novels spanning three generations of history's most iconic family, the Tudors.

Mother. Survivor. Queen.

Eldest daughter of the royal House of York, Elizabeth dreams of a crown to call her own. But when her beloved father, King Edward, dies suddenly, her destiny is rewritten. Her family's enemies close in.
Two young princes are murdered in the Tower. Then her uncle seizes power - and vows to make Elizabeth his queen. But another claimant seeks the throne, the upstart son of the rival royal House of Lancaster.
Marriage to this Henry Tudor would unite the white rose of York and the red of Lancaster - and change everything. A great new age awaits. Now Elizabeth must choose her allies - and husband - wisely, and fight for her right to rule.