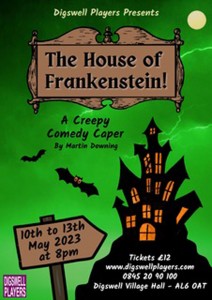 The House of Frankenstein. The Comedy! by Martin Downing. Directed by Mary Portalska.
" Baron Victor Von Frankenstein, bored with his attempts to give life to the lifeless, has turned his attention to curing the supposedly incurable! In a grim castle in the Carpathian Mountains he and his long suffering wife Elisabeth, the unsavory hunchback Ygor, the Valkyrian Frau Lurker and the Monster play host to various mysterious and menacing denizens of the night (invited or otherwise) who visit the Baron to beg him to rid them of their vices. But this challenge, although a welcome diversion for the headstrong young scientist, proves to be no picnic ... more of a living nightmare!
A highly entertaining wise cracking comedy!
Book your pre-show dinner at the Cowper Arms, Digswell. tel 01438 714080
Box Office: 0845 20 90 100. tickets@digswellplayers.org.uk