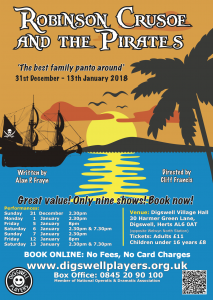 Traditional Pantomime written by Alan P. Frayn.
This jolly panto rolls along with a swagger and style that is great fun. The show has the usual elements of Panto Dame and 'Daft son', Principal Boy & Girl, Comedy Duo, A Ruthless Buccanneer, Slapstick, Music, Dance and Magicial atmosphere. Anyone who has been to a Digswell Players panto before will know what a great time everyone has at our shows.
We encourage everyone to come dressed as pirates and join in the fun.
Pre-show meals can be booked at the Cowper Arms in Digswell. Tel 01438 714080.
Parking: Limited around the hall. Parking available at the Cowper Arms if booking a pre-show meal.
Selected dates and times from Sunday 31st December 2017 to Saturday 13th January 2018
Tickets: Book online. No Card Charges. Click the

blue button

opposite. Select your seats.
£11 Adults, £8 Children Under 16
Box Office: 0845 20 90 100