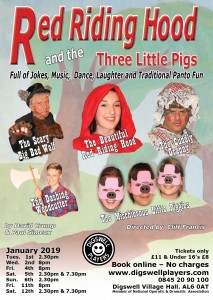 THE DIGSWELL PANTOMIME - RED RIDING HOOD AND THE THREE LITTLE PIGS
Traditional Pantomime . Written by David Crump & Paul Simcox. Directed by Cliff Francis.
What's the connection between Red Riding Hood and the Three Little Pigs? The Big Bad Wolf, of course! You'll love to boo him as he tries to eat Granny (the dame): You'll love to cheer the hero, Will the Woodcutter: You'll laugh at the antics of the hapless Bark and Trunk, and delight in watching the 3 Little Pigs and the lovely Red Riding Hood. Lots of music and dancing too, and good old family panto fun.
Pre-show meals can be booked at the Cowper Arms in Digswell. Tel 01438 714080.
Parking: Limited around the hall. Parking available at the Cowper Arms if booking a pre-show meal.
Performed with arrangement with National Operatic Dramatic Asscoiation.
Venue: Digswell Village hall, 30 Harmer Green Lane, Digswell AL6 0AT
www.digswellplayers.com
When the online booking is closed phone 07889 317599 for availablity on the day.