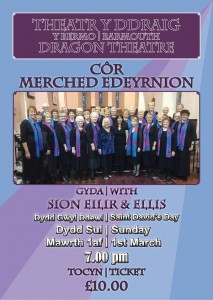 Côr Merched Edeyrnion is a Welsh Ladies Choir of fifty voices and was formed in 1979. The members are drawn from villages around and from the market towns of Bala and Corwen in North Wales.
Over the years the Choir has enjoyed performing at concerts and competing at numerous festivals. At the National Eisteddfod of Wales it has been triumphant in the Ladies Choral Competition eleven times and in 1992 won the Silver Cup at the prestigious Verona Music Festival in Italy.
Very successful choral tours have been undertaken in Brittany, Germany, Ireland, Catalonia and Barbados.


 
Côr o hanner cant o leisiau yw Côr Merched Edeyrnion a sefydlwyd yn 1979. Daw'r aelodau o bentrefi cyfagos ac o ddwy brif dref yr ardal, sef Corwen a'r Bala yng Ngogledd Cymru.
Mae'r Côr wedi mwynhau cynnal cyngherddau a chystadlu mewn nifer o Wyliau Cerddorol. Yn Eisteddfod Genedlaethol Cymru enillodd y Côr y Brif wobr i Gorau Merched unarddeg o weithiau ac yn 1992 enillwyd y Cwpan Arian yng Ngwyl Gerdd enwog Verona yn yr Eidal.
Bu'r Côr ar Deithiau Corawl llwyddianus iawn yn Llydaw, Yr Almaen, Iwerddon, Catalonia a Barbados.


Sunday 1st March 2020 - 7pm
Tickets £10 plus £1 per ticket booking fee