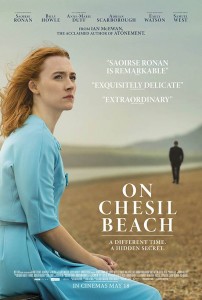 ON CHESIL BEACH
Florence (Ronan) and Edward (Howle) are just married and honeymooning on the dramatic coastline of Chesil Beach in Dorset. However, the hotel is old fashioned and stifling, and underlying tensions between the young couple come to the surface.
Friday 9th September 2022 @ 7pm
Adult £7
Supported by Film Hub Wales as part of the BFI Film Audience Network (FAN), made possible by the National Lottery.
Cefnogir gan Ganolfan Ffilm Cymru fel rhan o Rwydwaith Cynulleidfa Ffilm y BFI (FAN), a wedi wnaed yn bosib gan y Loteri Genedlaethol.