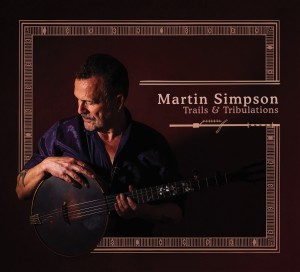 40 years after he recorded his first album "Golden Vanity" in 1976, Martin is known as a guitarist of formidable talent. Equally at home playing English traditional folk, American folk and blues and his own compositions, his is consistently named as one of the very finest fingerstyle guitar players in the world.
​
​Universally acclaimed as one of the finest ever acoustic and slide guitar players, and a fine banjo player-picker to boot, h
e is listed in Gibson Guitars' Top 30 Acoustic guitarists of all time, and
Acoustic Guitar
readers voted him number 12 guitarist in the world in 2005.
His solo show bears witness to an artist at the very top of his game. Whether interpreting material from tradition or singing his own potent self-penned songs, Simpson is a remarkable storyteller: captivating and profoundly moving. ​A virtuoso player without question, but above all Martin Simpson conveys his diverse treasure trove of material from the heart, performing with rare subtlety, intensity and honesty. A true master of his art.