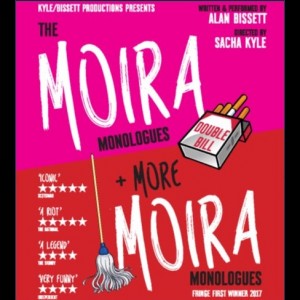 "The most charismatic character to appear on a Scottish stage in a decade" (The Scotsman) is back!

Alan Bissett's indomitable character Moira Bell, truth-teller, straight-talker, cleaner, single mum and The Hardest Woman in Falkirk, returns. This performance presents the well loved play from 2009 The Moira Monologues together with the brand new sequel (More) Moira Monologues which premiered at the Edinburgh Festival Fringe in August 2017, winning a prestigious Fringe First Award.
With the same balance of uproariously incisive observation, brilliant character comedy and heart-wrenching emotional content as the original show, this is a post-indyref, post-Brexit Moira, switched on to politics and still blowing away preconceptions about class.
Tickets: £12.00