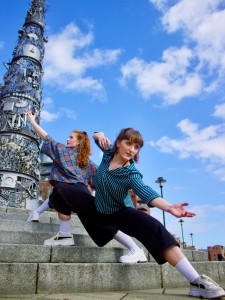 A family friendly afternoon showcase of dance, spoken word, and music, from a varied lineup of performers. Enjoy the relaxed atmosphere of the gardens of St Chad's College on a summer's afternoon, as you are mesmerised by spectacular choreography from dancers and aerialists, interspersed with poetry and musical performance.
Uncaged Aerial Theatre
are a Northern, female-led aerial theatre company,
performing 'Letters of Hope', an uplifting show in which t
he skies are filled with letters of hope, accompanied by magic, music and original aerial performances.
Performances every day.
Pelican Theatre
, a collaboration between Ellie Trow and Pagan Hunt,
will perform 'Kindred', which explores the joys and complexities of human connection, through dynamic and captivating physical theatre. This duet is a celebration of our ability to connect and communicate on a human level, through kinaesthetic empathy, exploring how we return to physical interaction and communal kinship.
Performances every day.
Jessa and Mick Liversidge
took to performing outdoors during the 2020 lockdown, and will bind our Showcase together with poetry and song from a wide range of styles. Classic poems such as John Maseeld's "Sea Fever" contrast with comic poems by Spike Milligan and Roald Dahl. Traditional folk songs meet well-known pop songs such as "In my life" by The Beatles and Sting's "Fields of Gold", all sung unaccompanied in Jessa's heartfelt style.
Performances every day except Thursday.
Erica Mulkern
, a 
professional dancer and choreographer who
trained at the Northern School of Contemporary Dance, is currently a freelance dancer with Balbir Singh Dance Company and Northern Dance. She will premiere her first solo work 'Suzy Homemaker' at the Durham Fringe Festival.
Performances every day except Saturday.
The Muses
are an all-female dance group who will perform their Lady Gaga inspired 'The Glory Set' -  a world of movement and performance that has a playful edge with a circus feel, designed to involve and inspire the audience with diverse and enchanting movement.
Saturday only.
Tim Jasper and Megan Robinson
are a pair of accomplished local musicians and music teachers who will serenade you on the cello and flute respectively in their piece 'Themeless Variations'.
Thursday only.
Running time: 90 minutes
St Chad's Garden
is a beautiful outdoor venue, so please make sure you've seen our inclement weather statement before booking tickets
.