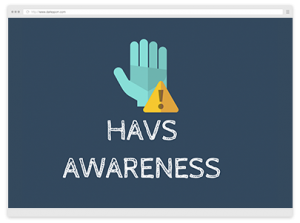 A short course on HAVS, come along to the HUB for a facilitated eLearning CBT session.
Permanent disease can result to the hands and arms from the vibration caused by operating powered equipment.
Occasional exposure is unlikely to cause ill health but regular and frequent exposure to hand arm vibration from equipment such as:
grinders, lawn mowers, hammer drills, road breakers, pneumatic powered hand tools etc. needs to be managed in order to protect operators.
Don't see the dates you are after, then please just contact us on admin@early.engineering or 01356-626006 or just walk in and we can offer immediate sessions.
These diseases, are collectively known as HAVS. You may hear them referred to as Vibration White Fingers. HAVS is progressive and irreversible with the hands becoming permanently disabled. In some cases the onset of these syndromes can be rapid.
As one of it's names suggests the most obvious symptom of this injury is the user's fingers blanching white as the injury caused by exposure to vibration restricts the blood supply and causes blanching.
Early warning signs of exposure are tingling fingers, numbness and loss of strength in the hands. As the disease progresses the symptoms become permanent and the nerves & blood vessels suffer irreversible damage.