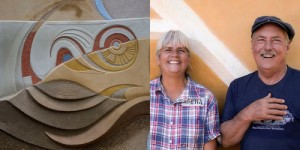 Did you know that clay plasters can be applied to all types of surfaces, including plasterboard and block walls? Let natural building legends, Bill and Athena Steen, guide you through a wide variety of decorative techniques, including Japanese plastering, sculpting, carving (sgraffito) and polishing. 
You are welcome to join this workshop for one day or for more. Join in on any day. 
Please refer to Earthen Building UK and Ireland's
terms and conditions
for information on our cancellation policy. 
This is an Engineers Ireland and RIAI Approved CPD Event. 6.5 hours CPD per day.
About Bill and Athena Steen 
Bill and Athena founded The Canelo Project in Arizona in 1989, centring on the theme – Connecting People, Culture and Nature. It is a centre for learning, research, demonstration and cross-cultural gatherings through workshops, tours, intern programs and writing. 
The focal point of their work is handcrafting simple, small-scale and comfortable shelter, built primarily with local and natural materials. 
They have co-authored several books that include –
The Straw Bale House, Small Straw Bale, Built by Hand, The Beauty of Straw Bale Houses, The Handcrafted Life of Don Juan Morales, Children of Clay, The Canelo Project 2009 and Earthen Floors
.​
Monday 24 to Thursday 27 September 2018
9:30am – 5:00pm
Tickets
 ​€85 per day
Click here to visit the main Clayfest website.