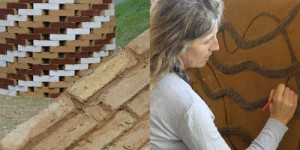 Discover the joy of clay blocks – quick, recycleable and low carbon – and work with a wide range of finishes. Tom Morton and Becky Little have been getting their hands mucky for 25 years in new eco-buildings, repairing traditional structures, research and training. In their workshop, the pair will draw inspiration from the Irish landscape to build a cluster of earth block forms finished with natural materials such as sand, shells, heather, seaweed and straw.
Monday and Tuesday will focus on corbelled form making, with finishes building up through the week. Tom will be there all week, Becky on Wednesday and Thursday, and they will be joined by other guest craftspeople on different days. Join us to experience the potential of earth sculpture in this workshop for one day or the whole week.
You are welcome to join this workshop for one day or for more. Join in on any day.
Please refer to Earthen Building UK and Ireland's
terms and conditions
for information on our cancellation policy.
This is an Engineers Ireland and RIAI Approved CPD Event. 6.5 hours CPD per day.
About Becky Little and Tom Morton
Mud mason Becky Little is the founder of RebEarth, a Scottish company specialising in construction and finishes using raw earth and natural materials. Her 25 years of experience in earth building encompass techniques such as mudwall (cob), wattle and daub, light clay and hemp, turf building, soft capping, clay plasters, earth sculpture and decoration. Becky believes that by learning from the past and working with nature, we celebrate and develop the skills and traditions of earth building. She is a project officer for Earth Building UK and Ireland.
Tom is an architect with considerable expertise in ecological construction, conservation and the reuse of old buildings. He has managed a wide variety of projects for private and community clients and leads his practice, Arc Architect's research activities. Tom is RIAS accredited in both conservation and sustainable design. He is an executive officer at Earth Building UK and Ireland (UK) and is a founding member of Earthen Building UK and Ireland (Ireland).
Monday 24 to Thursday 27 September 2018
- 9:30am – 5:00pm
Tickets
  €85 per day
Click here to visit the main Clayfest website
.