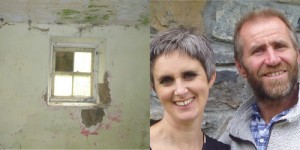 Mudwall (or cob as it also known) is a surprisingly durable material. And even when it does fail, it is almost always repairable, often with the original material. There are hundreds (and possibly even thousands) of traditional earth-built homes hidden all over Ireland. Learn about some of the most common causes of mudwall failure and how to fix them under the guidance of Mud and Wood's Colin and Féile.
This workshop will build on the previous day's activities. You are welcome to join this workshop for one day or for more. Join in on any day. Please note that there will only be a very brief recap on the techniques taught on previous days.
Please refer to Earthen Building UK and Ireland's
terms and conditions
for information on our cancellation policy.
This is an Engineers Ireland and RIAI Approved CPD Event. 6.5 CPD hours per day.
About Colin Ritchie and Féile Butler
Féile and Colin have been working with earth since 2005 and built their own contemporary cob home in 2010. 
Two years later, they founded Mud and Wood, providing advice, architectural services and training for natural building projects, specialising in earth in particular. Mud and Wood is on the Traditional Building Skills Register for mud repair. 
Féile is a conservation architect and has been an executive with Earth Building UK and Ireland (UK) since 2014. She is the founding director of Earthen Building UK and Ireland (Ireland) in 2018. Colin is founding member of Earthen Building UK and Ireland (Ireland).
Tuesday 25 to Thursday 27 September 2018
- 9:30am – 5:00pm
Tickets
  €85 per day
Click here to visit the main Clayfest website.