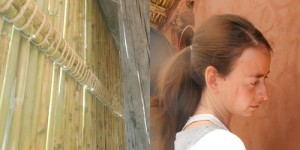 Reeds-and-plaster construction is an ancient tradition in Spain, but unknown in Ireland. Be part of a collaborative design process. Learn how to select, prepare and assemble the reeds into a stand-alone organic structure. Make and apply a naturally water-resistant earth plaster. Will this pavilion stand up to the Irish rain? We can't wait to find out. 
This workshop will build on the previous day's activities. You are welcome to join this workshop for one day or for more. Join in on any day. Please note that there will only be a very brief recap on the techniques taught on previous days.
Please refer to Earthen Building UK and Ireland's
terms and conditions
for information on our cancellation policy.
About Anna Altemir
In 2009, Anna began to run mud bricks workshops for the postgraduate students on Development Cooperation and Informal Settlements of the UNAM in Madrid. This led her to co-found Base-A two years later, organising all kinds of bioconstruction workshops with a strong focus on mud building techniques. She has run workshops for adults and children in festivals and schools. She also teaches for the Emergency Architecture of the UIC (International University of Catalonia). 
Base-A's international work focuses on materials such as wood, reed, stone, straw and mud, for the construction of public facilities such as schools and health centres. The local population volunteer on the projects, gaining practical skills and rediscovering the value of native and traditional building methods. Projects include the reconstruction of housing after the earthquake in Nepal, a library in Mlomp, Senegal a women's literacy centre in Thionck Essyl, Senegal
Monday 24 to Thursday 27 September 2018
- 9:30am – 5:00pm 
Tickets
  €85 per day