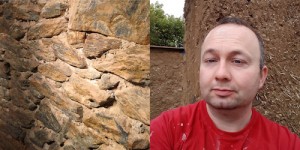 We'll let you in on a secret. Thousands and thousands of our traditional stone cottages were built with mud, not lime. Tried and tested for centuries, earth mortars are surprisingly robust and enduring. Build a mud-bonded sculptural stone structure under the expert eye of local mason, Brian Tobin.
You are welcome to join this workshop for one day or for more. Join in on any day.
Please refer to Earthen Building UK and Ireland's
terms and conditions
for information on our cancellation policy.
This is an Engineers Ireland and RIAI Approved CPD Event. 6.5 CPD hours per day.
About Brian Tobin
Brian comes from a family of craft persons and apprenticed in brick laying and stonework under his father. He has always had a love for old buildings and tradition skills. He honed his skills in working with lime and clay under the watchful and seasoned eye of Paddy Byrne, a plasterer and restoration consultant of some renown. 
Brian has repaired every manner of building, from humble vernacular cottages and farm buildings to the finest houses and churches in the South East. If you had a mudwalled building repaired in Co. Wexford, chances are that Brian had a hand in it.
Monday 24 to Thursday 27 September 2018
- 9:30am – 5:00pm
Tickets
  €85 per day
Click here to visit the main Clayfest website.