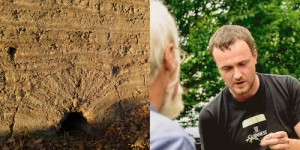 In bygone times, turf homes were considered the fast-track and affordable housing of the day. They have since disappeared from land and memory. However, thanks to links with Icelandic turf builders, a revival is underway in Scotland and Holland. Daniël Postma's workshop will look at the variations in turf and how the different types have distinct structural roles to play. Harvest your own turf with an array of specialised tools, build turf walls and lay out a turf roof.
This workshop will build on the previous day's activities. You are welcome to join this workshop for one day or for more. Join in on any day. Please note that there will only be a very brief recap on the techniques taught on previous days.
Please refer to Earthen Building UK and Ireland's
terms and conditions
for information on our cancellation policy.
About Daniël Postma
Daniël specialises in interpreting the development of ancient rural building traditions. He is interested in establishing an archaeologically inspired approach to modern sustainable architecture. 
He is interested in building customs throughout north-western Europe, focussing primarily on the North Sea and North Atlantic area. 
He has run numerous workshops, encouraging a spirit of experimentation in his participants, such as the reconstruction of an early medieval byre for University of Groningen and an archaeo-based green roof at the Centre for Alternative Technology, Wales.
Monday 24 to Thursday 27 September 2018
- 9:30am – 5:00pm
Tickets
  €85 per day