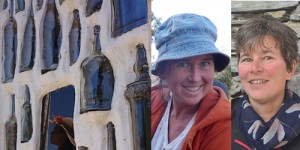 Cob (or mud/mudwall, as it is sometimes called in Ireland) is probably one of our best known earth building techniques and is a firm favourite among eco-builders. This exciting workshop ticks another environmentally-friendly box by incorporating common waste items, such as plastic bottles, into the structure. CAT lecturers are renowned for their experimental approach to projects; Louise Halestrap and Lizze Wynn are no exception.
You are welcome to join this workshop for one day or for more. Join in on any day.  
Please refer to Earthen Building UK and Ireland's
terms and conditions
for information on our cancellation policy.
This is an Engineers Ireland and RIAI Approved CPD Event. 6.5 CPD hours per day.
About Lizzie Wynn and Louise Halestrap
Lizzie Wynn is an artist specialising in functional sculpture and small buildings created with natural and local materials and in mosaics made with found objects. She also has a strong social justice component to her work, drawing attention to the injustice treatment of salad workers in Almeria, Spain. She has done ground-breaking work investigating the poor housing, sanitation and conditions of the workers - who are mostly refugees and migrants with few other options. She has supported a number of practical construction projects in cob and found objects to help the workers have access to sanitation and basic facilities. 
Louise has spent her career studying almost everything decomposing, from dead fish and abattoir waste, antibiotics produced in eggs, headache pills, nappies, TNT and pesticides in the soil, sewage, household waste. At the Centre of Alternative Technology, Wales, she leads the consultancy services on solid waste management and water treatment, and conservation and recycling. 
Monday 24 to Thursday 27 September 2018
- 9:30am – 5:00pm
Tickets
  €85 per day
Click here to visit the main Clayfest website.