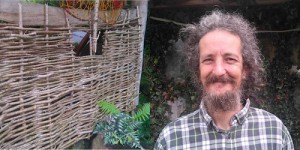 Wattle and daub is probably one of the oldest earth building techniques used in Ireland. Woodsman Niall Miller will show you how and when to harvest hazel and willow, how to grade it in preparation for wattle construction, how to build a wattle wall, and how to mix and apply the daub. With tips covering everything from health and safety to the aftercare of the wall itself, this one-day course gives a complete overview of this ancient method of construction.
You are welcome to join this workshop for one day or for more. Join in on any day. The content of the workshop will be repeated every day.
Please refer to Earthen Building UK and Ireland's
terms and conditions
for information on our cancellation policy.
This is an Engineers Ireland and RIAI Approved CPD Event. 6.5 CPD hours per day.
About Niall Miller
Niall Miller was involved in some of the reconstruction projects at the Irish National Heritage Park. He has collaborated on the construction of the small house in the grounds of The National Museum of Country Life, Castlebar, Co. Mayo and the Bird Hide / Crannóg at the Wildlife and Wetlands Trust, Castle Espie, Comber, Co. Down. Niall is a founding member of The Coppice Association of Ireland (Muintir na Coille) and has been involved in this area of work for over 25 years. He has run many courses on craft from coppice woods and practical coppice management. During summer festivals, he also runs children's toy-making workshops, where children use wood and glue to make a variety of wooden toys under his watchful supervision.
Monday 24 to Thursday 27 September 2018
- 9:30am – 5:00pm
Tickets
  €85 per day
Click here to visit the main Clayfest website.