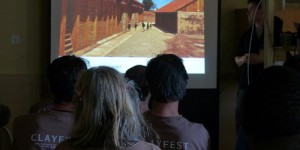 This will be EBUKI's 10th annual conference. Up for debate could be topics such as our hidden earth-built heritage and how to increase its visibility, innovations pioneered by under-the-radar builders, will contemporary earth building remain in the margins, the role of water in earth at a microscopic level and much, much more. 
Once purchased, Conference tickets are non-refundable, even if you are unable to attend the event. Please refer to our
terms and conditions
.
Confirmed Speakers:
Dr. Barry O'Reilly
National Inventory of Architectural Heritage - Department of 
Culture, Heritage and Gaeltacht
Dr Barry O'Reilly has worked in the field of vernacular architecture over the past thirty years. His recent doctoral research at Oxford Brookes University focused on vernacular (traditional) settlements in Ireland. He is currently editor for Europe and Eurasia for the revised edition of the Encyclopaedia of Vernacular Architecture of the World. Otherwise he works for the National Inventory of Architectural Heritage.
Bill and Athena Steen
The Canelo Project, Arizona
Athena and Bill Steen founded The Canelo Project in Arizona in 1989. Much of their work is influenced by their roots and connections with the southwestern United States. Athena comes from a background of New Mexican, Native American potters, sculptors and educators, Bill from southern Arizona and northern Sonora, Mexico.    
The Canelo Project centres on the theme – Connecting People, Culture and Nature. It is a centre for learning, research, demonstration and cross-cultural gatherings.  Their activities revolve around workshops, tours, intern programs and writing. The focal point of their work is handcrafting simple, small-scale and comfortable shelter, built primarily with local and natural materials. In that pursuit, they have developped a unique straw bale and clay wall system, finished with beautiful clay and lime plasters, sculptural wall carvings, earthen floors and clay ovens.
They have co-authored several books that include – The Straw Bale House, Small Strawbale, Built by Hand, The Beauty of Straw Bale Houses, The Handcrafted Life of Don Juan Morales, Children of Clay, The Canelo Project 2009 and Earthen Floors.
Catherina McLoughlin
Archaeologist – Stafford McLoughlin
Catherine McLoughlin is an archaeologist with a post-graduate diploma in Applied Building Repair & Conservation and is based in Co. Wexford. In recent years, she has become increasingly interested in the conservation of upstanding historic buildings and has worked on conservation projects relating to medieval churches and castles, stone farm buildings and mud-walled cottages, as well as the conservation of historic spaces such as graveyards. Last year, the Building Limes Forum published an article by Catherine on historic earth mortars.
Louise McPhillips and Iain Thom
Cob Self-Builders
Louise and Iain are in the throes of building their cob house in Co. Monaghan. They will share their experiences, both the joys and the challenges, of building a contemporary mud house in Ireland 2018.
Pat Ruane
Architectural Conservation Officer - Cork City Council
Pat Ruane was the architect who oversaw the Heritage Council's most important vernacular project to date, the conservation of a mudwall farmhouse in Mayglass, Co. Wexford. As he worked on the project, it became clear to him that these types of buildings are not just about materials and structure, they are bound up with a way of life. In his presentation, Pat will talk about his experience.
More information on our international speakers and all of the presentations will follow.
Friday 28 September 2018
- 9:30am – 5:00pm (Registration from 9:00am)
Tickets
  €115