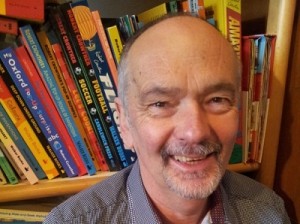 This workshop will be a rare opportunity to see how a pop-up book is produced, looking at roughs and proofs through to the finished book. There will be a practical demonstration of various pop-up techniques and then some of these can be used for participants to produce their own creations. Please bring along your preferred drawing and colouring materials, scissors, rulers and a gluestick: Robert will supply the card!
Robert Crowther was born in Leeds and went to Norwich School of Art and the Royal College of Art in London. After college he worked as a freelance graphic designer for Madame Tussaud's Waxworks and the London Planetarium. His whole freelance career stems from two projects produced at the Royal College: his Most Amazing Hide-and-Seek Alphabet Book and a biscuit self-portrait, which led to tv appearances on the Generation Game and several children's programmes.
Robert has worked with Walker Books since 1985, producing well over 30 pop-ups in that time. He frequently visits schools to show his books and give children the chance to make their own pop-up illustrations. He lives in Cornwall and his new book this year is Pop-up Cornwall, published by Mabecron Books. 
You can follow Robert on Twitter: @MrPopUpCrowther.
To watch the short film Robert made for our NCBF At Home season, click here.