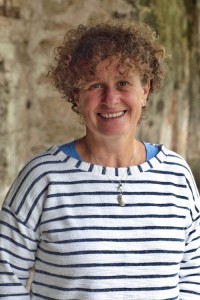 Last time Liz was at the festival she was planning a marathon research trip around Eastern Europe on the trail of ancestors killed in the Holocaust, so it's thrilling to have her back to discuss the bestselling result, her novel for young adults, When The World Was Ours. 
In 1936 Vienna three young friends – Leo, Elsa and Max – spend a perfect day together, unaware that around them Europe is descending into a growing darkness, and that events soon mean that they will be cruelly ripped apart from each other. With their lives taking them across Europe – to Germany, England, Prague and Poland – will they ever find their way back to each other? Will they want to?
Inspired by a true story, When The World Was Ours is an extraordinary novel that is as powerful as it is heartbreaking, and shows how the bonds of love, family and friendship allow glimmers of hope to flourish, even in the most hopeless of times.
'When The World Was Ours is Liz's masterpiece . . . an instant classic.' Anthony McGowan, winner of the 2020 CILIP Carnegie Medal"
Click here to visit Liz's website.
Click here to watch a video in which Liz discusses the challenges of talking to young people about the Holocaust.