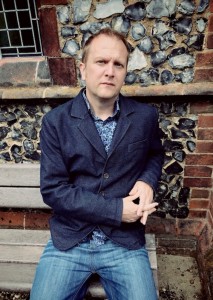 Edward Parnell's Ghostland is an affecting memoir of his fenland boyhood and the shadows cast over it by illness and bereavement. But as Ed revisits the scenes of his memories, the book also becomes a meditation on the rich British heritage of ghostly or sinister fiction and the landscapes forever associated with the likes of M R James and Alan Garner.
Cornwall also plays a strong role in 
Ghostland
, with visits to the childhood home of E. F. Benson in Truro and the atmospheric vistas of the Land's End Peninsula. 
Edward will be in conversation with the novelist and memoirist, Cathy Rentzenbrink.
Edward Parnell lives near Norwich and has an MA in Creative Writing from the University of East Anglia. He has been the recipient of an Escalator Award from the National Centre for Writing and a Winston Churchill Travelling Fellowship. His novel The Listeners was the winner of the Rethink New Novels Prize.
Follow Edward on Twitter: @edward_parnell.
You can find out more about Edward and his work and read his blogs on https://edwardparnell.com. 
To watch Edward on ITV talking about how ghost stories can offer comfort go to: https://www.itv.com/news/2019-10-25/edward-parnell-why-ghost-stories-bring-me-comfort-after-family-tragedies/.
To watch the short film Edward made for our NCBF At Home season, click here. 
Author photograph (c) K Walne.