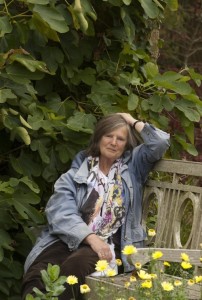 Legendary garden writer, Anna Pavord's latest book, Landskipping, is a fascinating history of a peculiarly British fascination with landscape shot through with autobiographical glimpses that place Anna within that historical. What is it about landscape, she asks, that we find beautiful? How does landscape comfort us, fille us with awe or simply mesmerise us? 
Anna will be in conversation with obsessive gardener, Patrick Gale about not just this but a lifetime of garden writing, of coping with the gardening English and the peculiar challenge of conveying the beauties of the natural world in mere words. Come armed with questions but not, perhaps, with sprigs of failing shrubs!
The daughter of two enthusiastic gardeners, Anna Pavord was raised in Wales and graduated with honours in English from the University of Leicester. She is the gardening correspondent for The Independent, and the author of widely praised gardening books including The Flowering Year, Gardening Companion, the international bestseller, The Tulip, Plant Partners and The Naming of Names. The long-time gardening correspondent for The Independent, she has contributed to Country Life, Country Living, and Elle Decoration, and is an associate editor of Gardens Illustrated. She lives in Dorset, in a Victorian farmhouse with the first garden she has created from scratch. 
To read a selection of Anna's columns for The Independent click here. 
To download Anna on Radio 3's Private Passions click here.
To read a moving interview with Anna about what gardening meant to her after cancer treatment, click here.
To watch Anna's very funny 15 minute talk on how gardening went from being a thing she hated as a child to something that saved her from giving her children away to passing strangers, click
here
.