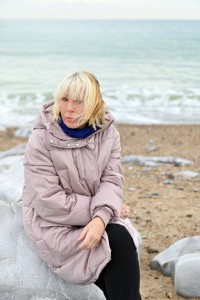 Our Eden Project Session this year is a serious treat for lovers of jazz or simply great singing. 
'One of the world's greatest cabaret singers' (Time Out), entrancing jazz artist Barb Jungr brings her unique interpretive skills to a collection of songs by two of her favourite songwriters, Bob Dylan and Jacques Brel, alongside some of her own gorgeous compositions.  This is stellar cabaret showcasing an artiste at the top of her game, which sees Barb present these  familiar tracks with a heartfelt originality, charm and elegance.
Awarded five stars by Culture Fix, a consummate performer and an artist at the top of her game, Barb's classy, inventive, dramatic, and sometimes funny performances draw you in, revealing new emotional depths and dramatic narratives within familiar songs.
Starting out as a singer and performer on the alternative cabaret circuit, Barb earned numerous plaudits, including a then-legendary Perrier Award. Never one to sit still, physically or artistically, she has evolved through the years into one of the UK's finest and most distinctive singers. Her exhilarating vocal style fuses her sense of jazz, blues, and soul with elements of everything from musical theatre to African and Iranian folk singing. In a stellar career she has recorded 18 albums and worked with many of the UK's finest musicians, as well as composing for children's theatre and making countless TV and radio appearances. Her album Bob, Brel and Me was released in 2019.
'One of the best interpreters of Jacques Brel and Bob Dylan anywhere on this angst-ridden planet today'.
Village Voice, New York
With her expressive voice, superb diction, and dynamic, physical, funny and intense performance style, she has the ability to dig deeply into familiar lyrics and make iconic songs resonate in new ways, effectively turning them into one-act plays.
Alex Ramon, Pop Matters
To watch Barb being interviewed on London Live about Bob, Brel & Me click here.
To watch Barb perform Mr Tambourine Man click here.
To watch Barb perform If Not For You click here. 
To watch Barb perform Sunday Morning St Denis click here. 
To find out more, visit Barb's website at www.barbjungr.co.uk. 

Photographs of Barb (c) Steve Ullathorne.