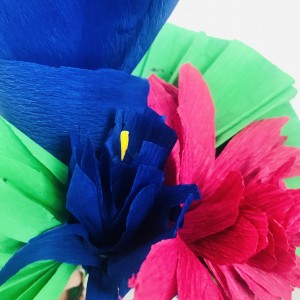 Endelienta Make Club – Wild Paper Blooms
Saturday 16th October 10am-12pm
We will be creating paper flowers from your imaginations. Learn some basic shapes and ideas and then let your imagination run wild. Fantastical tropical blooms or weird alien plants, we would love to see what you can create.
Make Club is back inside the Hall  for the Autumn season and masks are optional, we will have good ventilation so bring a warm jumper! Please also bring along a snack or drink if you wish as we are not yet offering refreshments. 
Endelienta Make Club: For children and parents!
Each month we have new creative ideas to keep you busy.  The Make Club is a fun space to explore, create and get messy. The workshops are led by inspirational artists and makers. There will be materials available for parents as well.
The Make Club is only £5 for any family.